Corrugated cardboard packaging is a convenient solution to many packaging woes. For many industries, corrugated packaging is an extension if the brand and can really draw customers in, especially on highly-competitive supermarket shelves. 
Our expert team have put together this comprehensive guide on cardboard packaging to help you understand what packaging solutions are available. 
What is corrugated cardboard made of?
Corrugated cardboard itself is made from timber, but can also be created using recycled wood chips and shavings from leftover lumber mill waste – 'paper pulp' material.
Corrugated cardboard is built from two sheets of paper, also known as 'liners', which protect the inner corrugated 'fluting'; a structure designed specifically to provide lightweight robustness.
Related: What is corrugated cardboard made of?
What type of corrugated cardboard are available?
With varied flute sizes and forms, there are endless forms of corrugated cardboard – each offering different properties, such as durability, robustness or bending resistance, to suit different applications. Some of the most common types of corrugated cardboard are:
Single face corrugated cardboard
Triple wall corrugated cardboard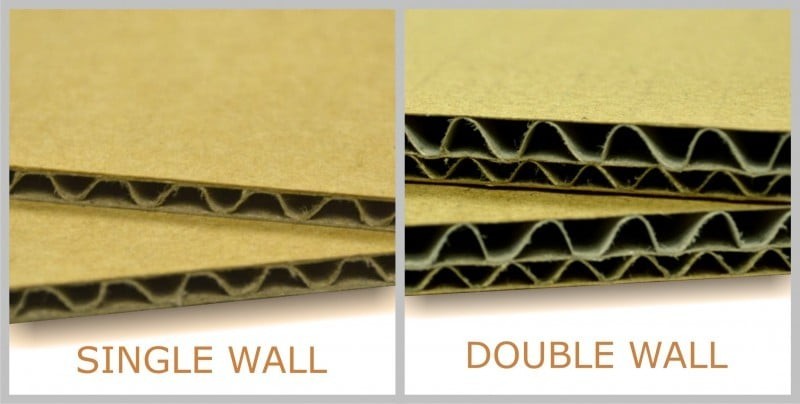 What are the benefits of corrugated cardboard?
Corrugated cardboard comes with an extensive range of benefits, making it an incredibly popular 'go-to' packaging solutions for both manufacturers and retailers.
1. Versatility: corrugated cardboard offers a solution versatile enough to meet a range of demands, including plain or printed packaging. Belmont Packaging offer a bespoke printed box design service to help reinforce your branding's core messages in consumer environments.
2. Lightweight: the nature of corrugated cardboard (fluting) allows the product to remain incredibly lightweight whilst offering a robust solution, making it the perfect packaging choice for goods transportation and minimising shipping costs.
3. Durability: the different wall layers in corrugated cardboard allow the product to maintain a solid, rigid structure that isn't easily compromised whilst also offering weatherproof protection during transportation.
How are boxes printed? 
There are a number of ways to print onto the cardboard boxes, and these include;
Lithography (also known as litho or offset)
Flexography (also known as flexo or flexographic printing)
Digital
Rotogravure (also known as gravure)
Silkscreen (also known as screen)
Each print method has its advantages and disadvantages, whether that be the finish of the printed boxes or the cost to produce them.
Our preferred method of printing is flexographic because it increases the speed of the manufacturing process without sacrificing quality. This means we can turn customer orders around quickly. 
What is flexographic printing? 
Flexographic is the most popular printing method for corrugated packaging. Originating from the more traditional letterpress style of printing, it is the perfect solution for premium printing on uneven surfaces, such as corrugated cardboard.
Flexographic printing uses rotating cylinders with inked printing plates of a slightly raised image. The cylinders rotate at high speeds to transfer the image onto the material – corrugated cardboard, in this instance.
Whilst flexographic printing isn't exactly new (we've been using it for over 20 years!) it is a technique that has been improved and refined by companies over the years.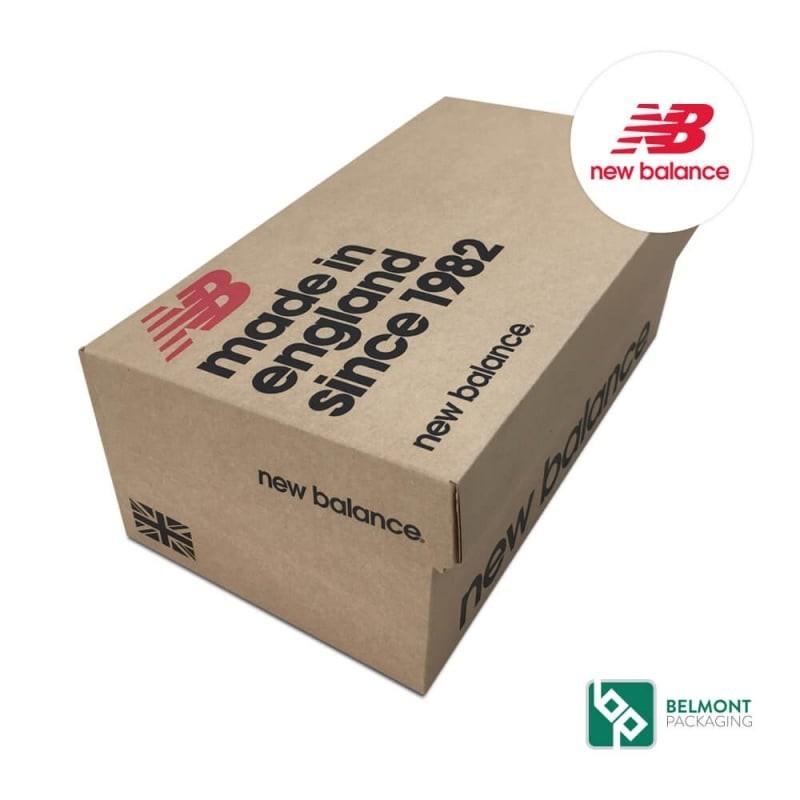 Example of Flexographic Printing for New Balance. 
How are printed packaging boxes produced? 
Once the cardboard, quantity and artwork are agreed with the client, we can commence production of the printed boxes.
Firstly, the cardboard is fed into the flexographic printing machine which has flexible photopolymer plates wrapped around rotating cylinders. These inked plates hold a slightly raised image (the artwork) and the cylinders rotate at extremely high speeds transferring the image onto the cardboard. During the printing process, quick drying, water-based inks are applied to the cardboard.
What's more, another key benefit of flexographic printing is that a variety of inks can be used including fluorescent and metallics giving the finished boxes extra appeal.
Following the printing and any die-cutting, the printed boxes are quality checked by our experts before being packed for shipment to the customer.
Want more information? 
Interested in learning how to design and create amazing cardboard packaging your customers will love? Read our ultimate guide on product packaging.
If you're looking for a corrugated cardboard solution for your company's packaging or display needs, get in touch with the experts at Belmont today on 01942 521919.