Have you ever wondered how a cardboard box is made? Here's everything you need to know about manufacturing a corrugated cardboard box.
There used to be a time when consumers would make a purchase and it wouldn't matter where that product came from, where it had been made, or what it had even been made out of.
However, ethical shopping has become much more integral to the purchasing process and customers across the UK are choosing suppliers that are making reasonable efforts to be environmentally friendly.
A recent Unilever study revealed that a third of consumers prefer sustainable brands. So businesses will find more now than ever before, shoppers want more information on what their products contain and how they've been manufactured.
Here at Belmont Packaging, we operate a number of green initiatives as part of our efforts to care for the environment which is why we're bringing you this post to be super transparent!
So, what is corrugated cardboard made of and how is it made?
From pulp to cardboard...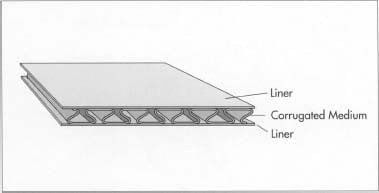 Image courtesy of Madehow.com
The composition of corrugated cardboard consists of a paper pulp material. Pulp is predominately made from timber however it can also be created using recycled woodchips and shavings leftover from lumber mill waste.
The board itself is made from a combination of two sheets of paper called liners that are glued together with an adhesive to a corrugated inner medium otherwise called a fluting.
All three layers of paper are assembled in a way that create an overall structure that is robust. The connected arches are fantastic for supporting strong weights and the air circulating in the flutes acts as an insulator, providing extra protection against changes in temperature.


Image courtesy of Watermanswebworld.com


Different types of corrugated…
Various types of boards can be created, using different flute sizes and profiles. These will all offer their own strengths and characteristics.
Double and triple wall corrugated cardboard has a higher stiffness which means it has excellent bending resistance, high stacking strength and puncture resistance.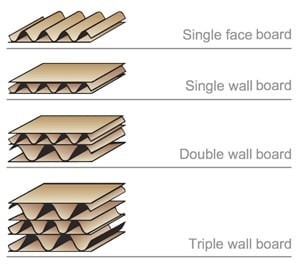 Image courtesy of design2015level2


Magic transformation…
Once the cardboard sheets are made, then we can go about working our magic and the board can be cut, shaped and folded into an infinite array of shapes and box sizes.
What's more, it is extremely light and flexible therefore it's versatility means it can also be used in a range of printing options to produce printed corrugated cardboard packaging solutions.
Fascinating facts that will blow your mind...
Did you know that many materials can be recycled, including corrugated cardboard. In fact, more than 80% of corrugated packaging in the UK is recycled, a higher rate than any other major packaging material.
But where did it all come from? The discovery of cardboard was by fluke! It was unearthed in the late 1800's by accident by a printer and bag maker called Robert Gair. He inadvertently cut a paper bag he was attempting to crease with a metal ruler. By doing so, he found he could both cut and bend the paper into a box. And the rest is history!
Interested in learning how to design and create amazing cardboard packaging? Read our complete guide to the basics of product packaging.
Now you know how corrugated cardboard is made and what it is made out of, why not check out our Gallery to see the finished masterpiece and some amazing solutions we've created.