Cardboard has been a popular packaging choice in the Food & Drink industry for many years, with experts estimating 60% of cardboard material produced is now dedicated to manufacturing packaging in this sector.
There's a number of reasons why corrugated cardboard makes the ideal packaging for Food & Drink products, we're going to go through 5 of them.
1. Versatile
One of the great advantages of cardboard packaging is that it can be completely versatile when it comes to function. It can perfectly showcase your product, protect it during transit and offer simple retail solutions that minimise waste in packaging and therefore expense.
Popular functions and uses:
These are just some of the uses, but cardboard has also become a popular alternative for street food venders and takeaways over plastic and polystyrene options.
Plus when it comes to making cardboard packaging, it can be customised for specific functions and sizes to best suit your product's needs.

2. Custom Printed
When it comes to cardboard, it's not just the function that can be customised, it's the aesthetic design too!
Instead of having a plain brown exterior or interior, there are many options of how to incorporate your branding and artwork onto Food & Drink packaging.
Allowing you to elevate your brand image, stand out in a retail environment or create an enhanced unboxing experience. Plus consumers eat with their eyes before their mouths, so you need to make your packaging look tempting too.
At Belmont we use flexographic printing as it is efficient and offers a high quality finish. And, our boxes can also be completed with a gloss finish which is great for display or eCommerce packaging if you want to add a little extra life into your packaging.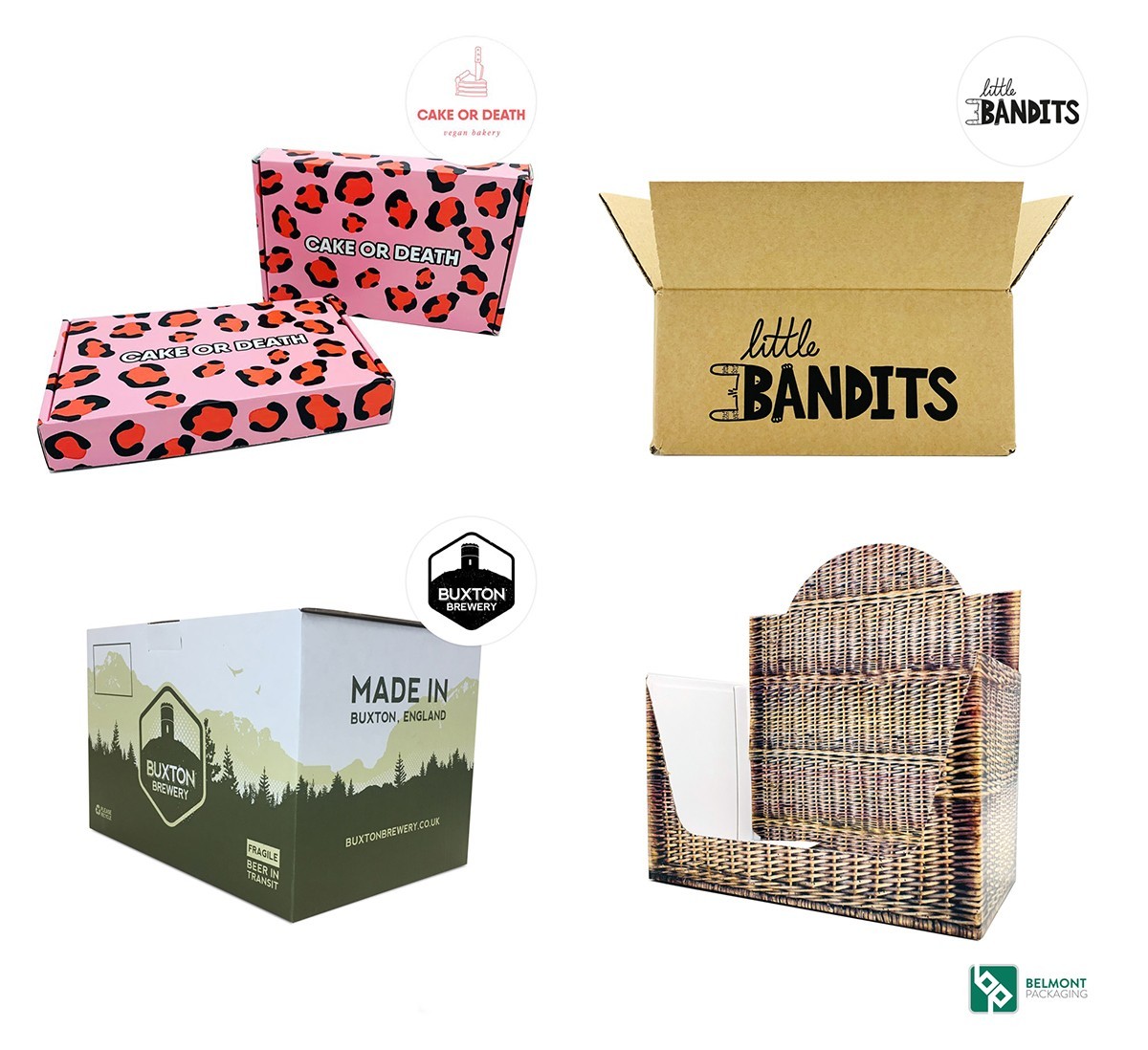 3. Keeps Products Safe
Corrugated cardboard has also been proven to keep Food & Drink products safe from a hygiene perspective as well as through a functional design aspect.
To produce cardboard, layers of paper are shaped and bonded at temperatures of up to 100°C, this is hotter than most pathogens can withstand. This means that even cardboard which is made from recycled materials will be sanitised throughout the manufacturing process.
Furthermore, cardboard packaging helps prevent moisture from infiltrating the product, therefore keeping your food products fresh for longer!
4. Cost Effective
One of the big bonuses is that cardboard packaging is cost-effective and a viable solution for any size of business, from small or start up food and drink product companies to large organisations in the industry.
Aside from the boxes themselves being cost effective, using corrugated cardboard is a lightweight solution reducing other costs such as shipping. Therefore, more money in the bank that can go back into your business.
5. Environmentally Conscious Choice
Lastly, corrugated cardboard is an environmentally conscious choice for packaging in the Food & Drink industry. With the need for single use plastics to be reduced in this sector and many others, cardboard is the perfect option.
We are very passionate about being environmentally conscious and looking after our planet for the future, so we make sure all of our packaging products are 100% recyclable.

You can read the full details regarding our commitment to the planet and sustainability here.
That was just 5 of the reasons why cardboard packaging is ideal for the Food & Drink industry.
If you would like more information regarding our Food & Drink packaging, get in touch with our team of friendly experts.
Read our Ultimate Guide to Food & Drink packaging to find out more