We were extremely proud to announce earlier this year that we have successfully achieved the ISO 14001 certification, to sit nicely alongside our ISO 9001 certification which we received in 2015.
However, we realise that our customers may not fully understand why this is a big deal for us, or what you can expect from working with an ISO-certified company.
ISO is an independent, non-governmental, international organisation that develops standards to ensure the quality, safety and efficiency of products, services and systems.
It is hugely important to us that we maintain consistency and quality across all departments within Belmont Packaging.
So, we can ensure you are receiving the highest standard products and services from us no matter how big or small the job may be.
Both ISO accreditations are hugely important as they help us manage the organisation, foster a culture of continuous improvement and be consistent with our quality process.
Why is IS09001 important?
ISO9001 is the international standard that highlights and assesses our standard of document processes, procedures and responsibilities, meaning you can be sure that we meet our customer and regulatory requirements continuously.
This allows us to not only operate efficiently but also drive continual improvements in all aspects and departments.
For small to medium-sized enterprises ( SME's) ISO standards help to:
Build customer confidence that your products are safe and reliable
Meet regulation requirements at a lower cost
Reduce costs across all aspects of your business
Gain market access across the world
Why is IS014001 important?
An environmental management system consists of policies, plans and practices that define how Belmont interacts with the environment.
The ISO:14001 provides a framework and guideline in which we created our EMS.
The ISO 14001 is an internationally recognised standard for environmental management. This certification highlights our dedication to protecting the environment and allows us to advertise ourselves as an environmentally friendly company.
In order to achieve this certification we had to consider seven quality management principles which are:
Leadership
Customer focus
Engagement of people
Process approach
Improvement
Evidence-based decision-making
Relationship management
It is important that we are ISO14001 certified as this demonstrates that we are an environmentally friendly company, which as you know has always been a core value of ours.
Why should you work with an ISO-certified company?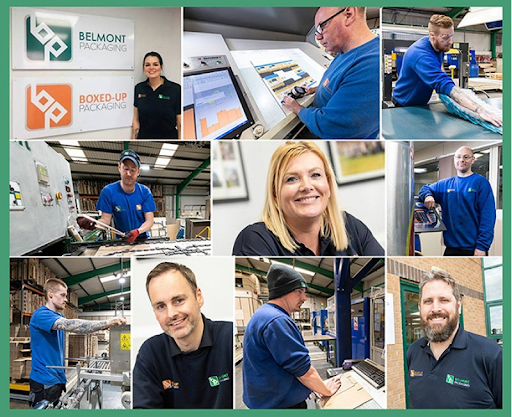 We understand that it is crucial to work with the best packaging suppliers in order to be happy with the standard of products you receive.
Although, we do not want to brag too much, being awarded an ISO certification is a big deal.
It is hard for companies to get this award and it is hard to maintain due to the high standards set by ISO.
Therefore, companies who have this accreditation stand out within their industry as it offers a clear reason to trust them.
There are plenty of benefits of working with an ISO 9001 certified company, and all of it is geared to improving performance and, ultimately, customer satisfaction
Here are just some of the benefits of working with an ISO-certified company:
1. The company follows industry standards
Just one of the criteria for awarding the certification is that a company outlines and follows a specific quality management system.
This system is focused on driving standardisation across all company levels and processes. For you, this means, you will have peace of mind that you will receive the same high-quality product and service every time.
2. Efficient delivery process
You can guarantee that your customers will receive their products on time. ISO certification determines that the company's process has proved to be efficient and reliable.
They can manage lead times and have the capacity to coordinate each step of the manufacturing process.
3. Reliable products
Having a reliable and proven system ensures that customers always get reliable products with little to no defects. ISO certified companies have standards set in place to ensure that the company is set for success in all of it's deliverables.
Should anything go wrong ISO companies have systems in place to identify and rectify any issues that may occur.
4. High standard of customer service
Customer satisfaction is our ultimate goal which aligns with the guiding principles of the ISO certification. All our products and services have been assessed to be consistent, high-quality, and well-performing.
So we can meet the customers' needs every single time. An important part of the ISO certification process is Integrating the view of the consumer.
This helps to ensure that issues such as safety and quality are adequately addressed.
Find out more about our other certifications including FSC and BRC