A recent study showed that a single glance of a person's face for just 33 to 100 milliseconds is enough time to form a first impression.
As well as being extremely quick to make, first impressions can be very hard to reverse. Once somebody has made their mind up about your brand or perceived your brand in a negative light, because of how it externally looks it can be hard to change their opinion
Now let's think about if you had to stand lined up in a row of people, all fighting for that same person's attention, or the same job vacancy. Of course, you would want to stand out from the crowd, look your best, and do everything you could to showcase your talents.
This brings us to packaging…
If your product is lucky enough to be placed on a supermarket aisle or found by an online search the same scenario will occur. But this time fighting for the consumer to purchase your product, instead of the competitors lined up next to you.
Custom packaging is the marketing tool you need to make the best impression possible. Not just for the first time, but for every time a customer comes into contact with your product or service.
So, let's start with what is custom packaging?
As the name suggests, custom packaging is essentially designing packaging around your products from scratch. Rather than choosing a ready-made box that the product may not fit comfortably in. This means creating a brand-new box that showcases your product in a way that makes you stand out.
Traditionally packaging just did what it said on the box, packaged your products safely. However, as the industry has adapted and grown, the benefits of custom packaging have been financially rewarding for a number of businesses.
Custom packaging allows your brand to tell it's unique story, there are a number of highly effective brands who tell their story extremely well through custom packaging. By adding engaging colours, bold patterns, illustrations, copy which makes people laugh, even sharing surprising facts and opening up a conversation with their customers.
Studies have shown how consumers respond to custom packaging;
50% of consumers say that branded packaging makes them more likely to recommend the brand to their friends.
83% of consumers said they were likely to share an image of high-quality packaging online if they liked the look of it.
52% of consumers said they are more likely to make a repeat purchase from a brand delivering orders in premium packaging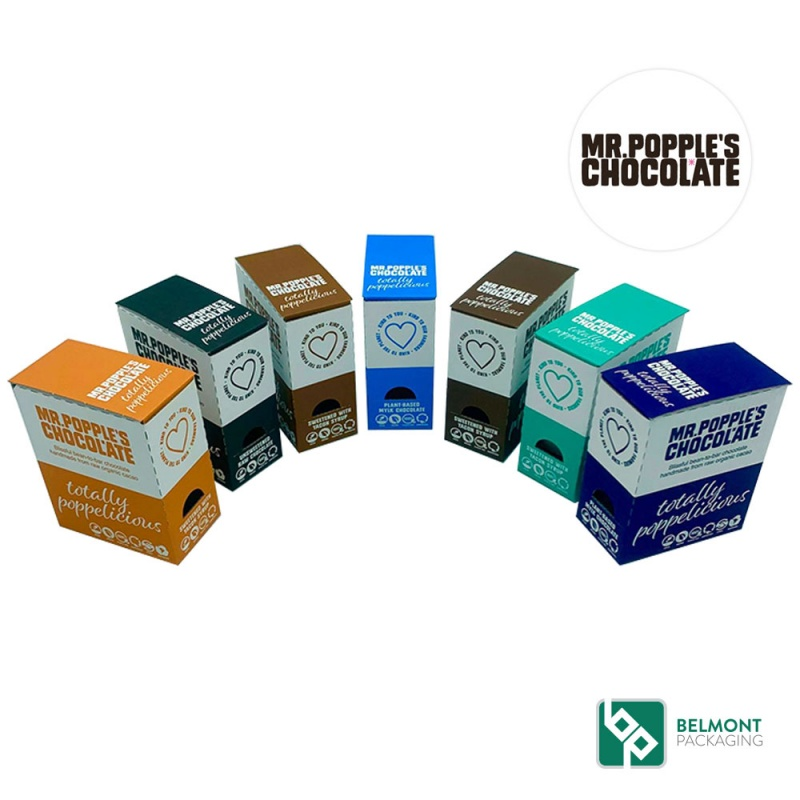 If you are an eCommerce business, your packaging could be the first physical touchpoint your customer receives- so really this is your first impression and it is important to get this right. If your customer just receives a plain ordinary brown box this may provoke suspicion and doubts in trusting your brand. The more recognisable your packaging is, the greater chance that first-time buyers will remember you and buy again.
How we can help…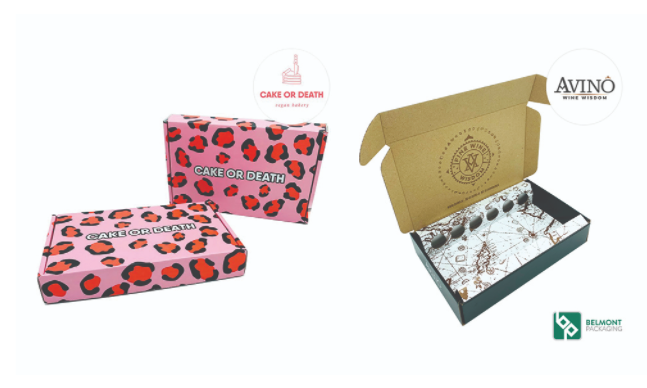 ( Photo taken before social distancing requirements)
Custom packaging is capable of telling your whole brand story and in return increasing brand awareness and positive brand image. To really get the most of your packaging design, the material, texture, design, and size all need to work with your logo and branding. That's why it is important to hire an expert who can make sure your packaging complements your brand image.
We have been producing custom packaging for a diverse range of businesses that have received outstanding results for many years.
All of our custom cardboard packaging is made to your specifications, offering:
Bespoke functional design
High-quality flexographic printing
Range of eco-friendly varnishes
Our experienced team will work with you from concept to completion, delivering the perfect custom packaging designed just for your product. Whatever your custom packaging needs, the team at Belmont will offer the ideal solution… and if you're not sure exactly what you need, just have a chat with us You can view our gallery of work for more inspiration.