Understanding Corrugated Cardboard
Corrugated board has been in production since the 19th Century, in 1870 Robert Gair invented the pre-cut cardboard box. The invention came as a result of an accident when printing an order of paper bags, the ruler normally used to creased bags shifted and created a cut instead. Gair discovered that by cutting and creasing in one operation he could make prefabricated paperboard boxes. The natural developed from this was to apply the process to corrugated card.
Corrugated board is created by combing papers; the strength of the board is very much dependant on the materials used. Corrugated board is light, rigid and can provide suitable protection through shock absorption and temperature protection. This is why many people look to utilise corrugated board in their packaging materials.
A standard sheet of corrugated board is made with two main components: linerboard and corrugated fluted paper. The sheet of fluted paper is sandwiched between an outside and inner liner which is then glued to the flat liner paper with starch.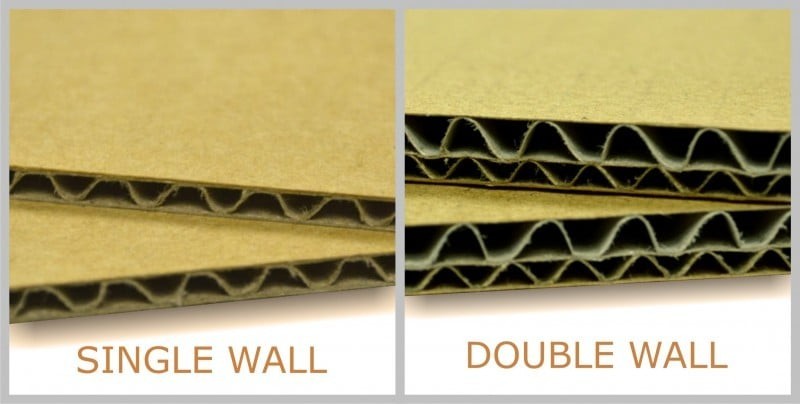 Corrugated Board descriptions

When searching for a corrugated case you will generally see a description of the board as B150KT, which is a shorthand description of the board grade, paper weight and fluting size.
B = fluting Size
150 = Paper weight
KT = Kraft/ Test Paper (Outer/ Inner Liner)
To understand this further we shall look into what this means.

Types of Paper

The basic material for the production of corrugated board is paper. There are many types of paper available and suitable for creating corrugated cardboard. It is important to understand that the properties of paper can vary considerably and directly contribute to the nature and colour of the corrugated case.
The main types of paperboard utilised in creating corrugated cases are detailed below;
Kraft Paper: Made from virgin fibre using soft woods from sustainable forests, cooked in a sulphate process. This is the most common paperboard used as an outside liner, as this paperboard has a higher level of burst suitable for corrugated cases.
Test Paper: Produced in 3 grades; Grade 1 usually contains a higher proportion of virgin fibres in the outer surface with recycled fibres, Grades 2 and 3 are usually created solely from recycled fibres. Due to the recycled mottled effect, this paper is most commonly used as an inner liner.
Semi-Chemical: The fluting in Semi-Chemical board contains a high percentage of virgin fibre from hard woods using the neutral sulphite semi chemical process. The strength of semi-chemical board comes from the fibres and us more tolerable to damp conditions.
Waste-Based: This board is made entirely from recycled fibre with chemicals added during the paper making process, which provide the finished board with strength characteristics.
Flute Sizes

Corrugated board has five common sizes of fluting, A,B,C,E and F. The letter designation refers to the order they were invented, not their relative size.
A= 5mm fluting. High top-to-bottom compression, good staking strength. Thickness gives outstanding cushioning protection.
B= 4mm fluting. This is a very robust flute, offering compactness for minimising storage space. It provides a good printing surface.
C= 3mm fluting. This is a larger flute than B offering greater compression strength, however the crush strength is not as strong as a smaller flute.
E= 2mm fluting. This is a very fine flute for corrugated cartons. It gives an excellent crush resistance and compression strength. It also provides a high quality print finish.
F= 1mm fluting
*Double wall cartons can use a combination of flute sizes.*