Celebrating National Bring Your Bear to Work Day.
Teddy Bears are available in all shapes and sizes. They provide comfort in times of turmoil and protect us from the monsters lurking in the dark. Whether they are fury or woolly, old or new, big or small, Teddy bears are the childhood friend that never lets us down. Bring your Teddy Bear to work day celebrates the origins of the Teddy and all that you love about your bears.
The History of the Teddy bear.
A teddy bear is a soft toy in the form of a bear. Developed in the 20th century by toy makers Morris Michtom and Richard Steiff, named after US President Theodore "Teddy" Roosevelt, and is now an iconic children's toy.
The name teddy bear, according to popular legend is based on an incident between President Roosevelt and a bear hunting trip in 1902. Roosevelt was the last hunter from the exhibition, who had yet to shoot a bear. His attendants hunted down a bear, cornered it and clubbed it into submission. The bear was then tied to a tree for the President to shoot. Roosevelt refused to shoot the bear, on the grounds that it was entirely unsportsmanlike, and it took no time at all for cartoons and stuffed bears to emerge called "Teddy Bears".
Bring your bear to work day is your reminder that your childhood companion never abandoned you, and they deserve t not be abandoned by you.
Here at Boxed-Up we have a great array of bears, helping us through our work day! Our office has been full of sharing stories and memories of beloved childhood companions. Much fun has been had by all. Let us introduce you to our team of bears;
Rosie
Little Rosie can be found helping Planning Manager Bev, keeping a watchful eye on the factory floor.
George
Traditional Bear George is helping designer Simon in our design room. Equipped with a set of ear plugs, he is enjoying watching Simon plot off some exciting samples.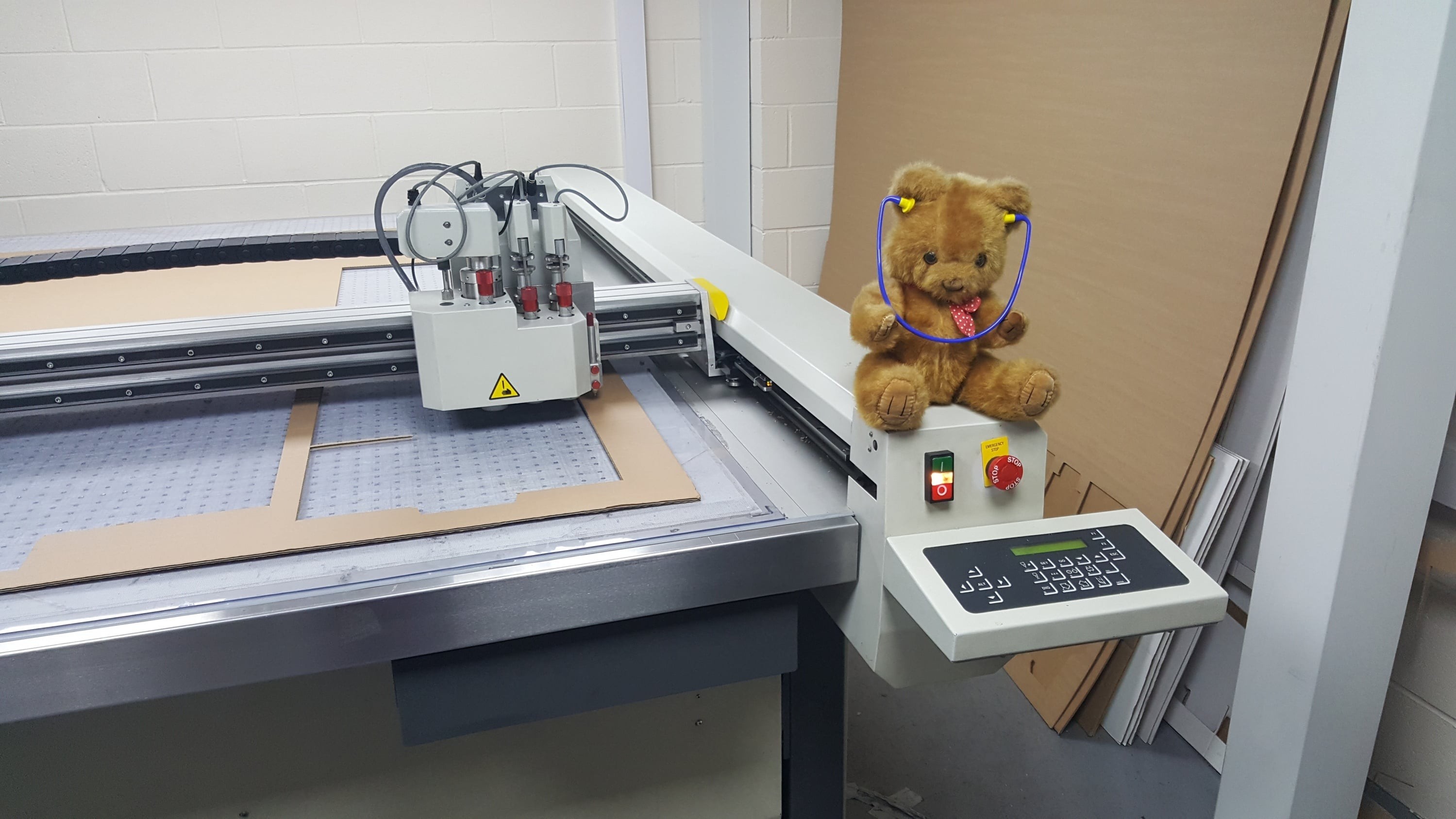 Geoffrey
Monkey Geoffrey is assisting eCommerce Rachel with all things Boxed-Up. Fitted with his own high-viz, he has also been into the factory arranging for packets to be shipped out today. 
Baffle
Little Fox Baffle has made himself a snug little home in amongst the orders on Account Handler Julie's desk.
Paddington Bear
Famous Paddington Bear has also paid us a visit. He can be found watching over the office from Sales Office Manager Vicky's Desk. We are pleased that he is behaving himself and not getting up to his usual mischief.
Teddy
Hidden in Transport Manager Val's corner is another famous bear. Mr Bean's Teddy is asleep on the job! The early morning has proved to be a bit too much.
We have certainly enjoyed having our friends join us today and we are counting down the days through to next year's Bring Your Bear Day!