A lot goes on behind the scenes at Belmont Packaging to ensure customers receive their corrugated cardboard packaging in the shortest lead time possible. From the initial quote, right through to product delivery, the first priority is making sure we deliver a quality corrugated packaging solution with a fast turnaround.
We've put together our most frequently asked questions which gives an insight into everyday life at Belmont Packaging:
What happens when I send my enquiry?
Once your enquiry lands in our inbox, we will acknowledge the enquiry and it will be passed onto our expert design team to draw up on our specialist design software. This will then be sent back to the sales team to provide a competitive quotation. We will usually aim to have a quotation to you within 48 hours.
Moving the project into production
Once you're happy with the cost, we would produce a sample box for you to check the size and style as well as providing a blank cutter in PDF format for you to add any artwork. At the same time we can send you a new trade application form so you can apply for 30 days credit on payment - we also have a proforma system for upfront payments.
We won't start on production until you have signed off a sample, artwork and any colour swatches, so you'll know exactly what you will be getting.
Inside production
When your project is sent down to production after the approval process, it will start by going through our high-spec flexographic printing machine, before being sent through to a specialist die-cut machine and then finally going through a final machine for glueing and folding.
Once your order is out of production and passed out stringent quality assurance tests (through our BOBST Digital Inspection table), from receipt of the order and all your approvals we would aim to do the full production process within ten working days.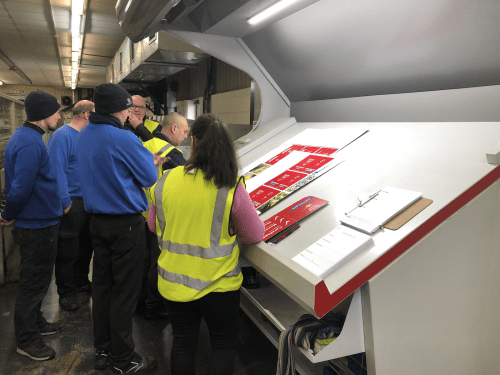 Production tolerances
Making great corrugated cardboard boxes is not an exact science but our production team will keep the order within +/- 10% tolerance. For example, if you order 1,000 boxes, we will deliver between 900 and 1,100 finished items. If in the very rare occasion that we deliver any less than this number, we can arrange a make-up.
Any special requirements should be stated during the quotation phase so we can account for extra materials that may be required.
Want to view some of our recent work? Click here to take a look at our product gallery, or click here to contact us if you're ready to start a project.